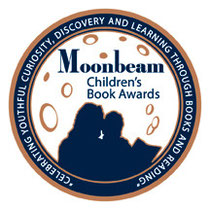 DROMEDARY AND CAMELOT  is enjoying a fun year! Ruby M. Harmon (author)  and Eric Hamilton (illustrator) recently returned from an exciting book reading, drawing and signing  event at the Eric Carle Museum of Picture Book Art in Massachusetts. They were fortunate to participate in Story Time at the Carle.
Poetic Moves Publishing is happy to announce that Dromedary and Camelot won the Bronze Moonbeam Children's Book Award in the Picture Book (all ages) category. We are thrllled about this acheivement and look forward to many more book awards. Thank you  very much, Moonbeam Awards!
How delightful to see children and adults enjoying Dromedary and Camelot! A co-worker shared a picture of her daughter enjoying the book. One parent shared that she reads the book every night to her daughter. Interestingly, her daughter thought the book had been written especially for her. 
We are  so touched by everyone's support and all of the book purchases!
There will be upcoming book readings, signings posted on this page. Stay tuned folks!